by Caitlin Hendee,
Jul 3, 2017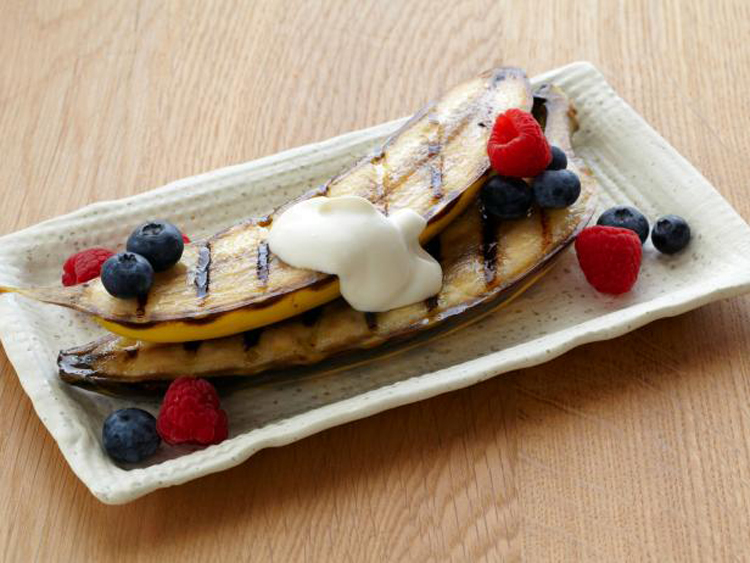 Summer is always packed with great times — barbeques, swimming, picnics, you name it.
And along with those great times comes a lot of high-calorie foods, especially when it comes to dessert.
That's why we compiled a list of our 7 favorite summer-themed recipes, sweet treats that give you that warm summer vibe without taking you over the edge on calorie limits.
---
Cantaloupe-White Balsamic Sorbet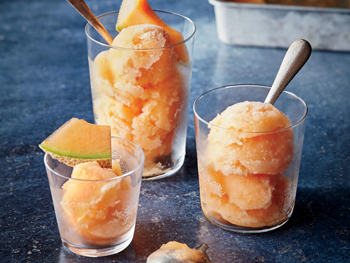 Sorbet is about as summer as it gets. There's something about that cool, icy deliciousness that takes the edge off hot days and makes us smile. This particular sorbet is bright, creamy and has a depth of flavor that will have you coming back for seconds (which is okay, because we're talking 87 calories per serving).
Serves: 6 (½ cup servings)
Calories: 87
1 pound chopped peeled ripe cantaloupe (about 2 1/2 cups)
3 tablespoons white balsamic vinegar
1/8 teaspoon kosher salt
3/4 cup water, divided
3 tablespoons sugar
3 tablespoons honey
Process cantaloupe, vinegar, salt and 1/2 cup water in a blender until smooth.
Combine sugar, honey and remaining 1/4 cup water in a saucepan over medium; cook, stirring constantly, until sugar is dissolved, 2 to 4 minutes. Remove from heat, and cool 10 minutes.
Stir together cantaloupe mixture and honey mixture in a medium bowl until combined. Cover and chill until cold, about 30 minutes.
Pour mixture into freezer bowl of a 1-quart electric ice-cream maker, and proceed according to manufacturer's instructions. (Instructions and times will vary.)
Transfer to a freezer-safe container, and freeze until easily scooped, at least 4 hours.
Recipe Courtesy: Cooking Light
Grilled Bananas with Maple Creme Fraiche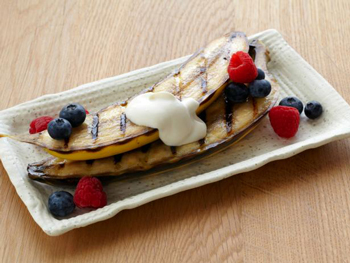 There's so many ways bananas can be used to concoct tasty desserts — well, add this one to the list. There's nothing more summer than grilling, and these bananas add in layers of texture and melt-in-your mouth flavors that are literally out of this world.
Serves: 8
Calories: 211
4 ripe bananas, halved and left in peel
Vegetable oil
1 cup creme fraiche or sour cream
1/4 cup pure maple syrup
Fresh mint, for garnish
Fresh raspberries, blackberries and blueberries, for garnish
Brush cut side of bananas with oil. Grill until golden brown, about 2 minutes. Turn over and continue grilling until just cooked through.
Whisk together creme fraiche and maple syrup, place a large dollop in the center of each banana half. Garnish with fresh mint and berries.
Recipe courtesy Cooking Channel
Skinny Cake Pops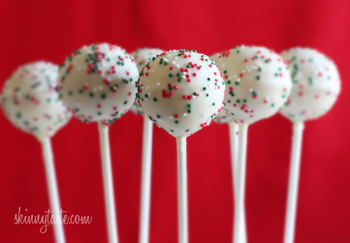 Cake doesn't have to be the high-calorie treat you only eat at birthday parties. Indulge on the taste (without the guilt) with these fun cake pops made with light batter. They're eye-catching and especially great for kids, too.
Serves: 48-50
Calories: 102
16.5 oz package yellow cake mix
6 oz plain fat-free Greek yogurt (Chobani)
1 cup water
2 large egg whites
1 tsp vanilla extract
baking spray
48 oz Baker's white chocolate (20 oz calculated in n.i)*
sprinkles (optional)
48-50 lollipop sticks
styrofoam block
Preheat oven to 350°F. Lightly spray a the cake pop pan with baking spray.
Combine all the cake ingredients in a large mixing bowl and beat until combined. Place the batter into a pastry bag or large ziplock bag with the tip cut off.
Pipe the batter into the prepared cake pop pan and bake about 18 minutes (I rotated the pan after 10 minutes to be sure they baked evenly). Let it rest 5 minutes before opening the pan.
Place cake balls on a wire rack and repeat with remaining batter. Using a scissor, cut the seam off the balls.
Refrigerate the cake balls for about 45 minutes, this helps the chocolate stick to the cake.
Melt some of the chocolate in the microwave according to package directions, careful not to burn the chocolate. Insert the tip of the stick into the melted chocolate, then into the cake ball (this helps hold the stick in place).
In batches, melt remaining chocolate. Dip the cake pops into the chocolate, let the excess drip off then place stick on a styrofoam block about a minute, then add sprinkles on top if using.
Recipe courtesy SkinnyTaste
Raspberry Tarts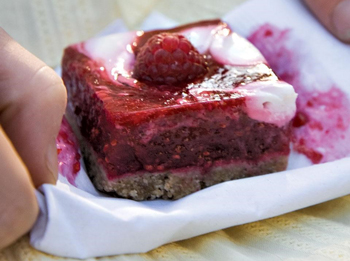 Raspberries have a crisp flavor with just the right balance of tart and sweetness. When you turn them into a compote and top pie crust with them, it's about as summer as it gets. They make the perfect treat for picnics and parties.
Serves: 16 (2-inch bar serving)
Calories: 113
Crust:
¾ cup white whole-wheat flour
½ cup chopped pecans
2 tablespoons granulated sugar
½ teaspoon salt
3 tablespoons cold butter, cut into small pieces
2 tablespoons ice water
½ teaspoon vanilla extract
Raspberry Filling:
2 teaspoons unflavored gelatin
2 tablespoons water
3 cups fresh raspberries, divided
½ cup granulated sugar
4 tablespoons nonfat cream cheese, softened
2 tablespoons low-fat milk
1 tablespoon confectioners' sugar
To prepare crust: Preheat oven to 400°F. Coat an 8-inch-square baking pan with cooking spray.
Place flour, pecans, 2 tablespoons sugar and salt in a food processor; process until the nuts are finely ground. Add butter one piece at a time, pulsing once or twice after each addition, until incorporated. Add ice water and vanilla and pulse just until the dough starts to come together. Transfer to the prepared pan. Press evenly and firmly into the pan to form a bottom crust.
Bake the crust until it looks set, but not browned, about 15 minutes. Let cool on a wire rack.
To prepare raspberry filling: Sprinkle gelatin over 2 tablespoons water in a small bowl; let stand, stirring once or twice, while you prepare the rest of the filling.
Reserve 16 raspberries. Puree the remaining raspberries in a food processor until smooth. Transfer to a medium saucepan and stir in ½ cup sugar. Cook over medium heat until bubbling. Stir in the gelatin mixture and cook, stirring, until the gelatin is melted, about 1 minute.
Fill a large bowl with ice water.
Pour the raspberry mixture into a medium bowl and set it in the bowl of ice water. Refrigerate, stirring occasionally with a rubber spatula, until the mixture thickens to the consistency of loose jam and is beginning to set around the edges, about 30 minutes.
Meanwhile, beat cream cheese, milk and confectioners' sugar in a medium bowl with an electric mixer until smooth.
Spread the thickened raspberry filling evenly over the crust.
Dollop the cream cheese mixture over the filling. Draw the tip of a sharp knife or skewer through the two fillings to create a swirled effect.
Nestle the reserved berries into the filling, evenly spacing them so each bar will be topped with a berry when cut. Refrigerate until the bars are completely set, about 3 hours. Cut into 16 bars, one raspberry per bar.
Recipe courtesy Eating Well
Salted Dark Chocolate Tahini Fudge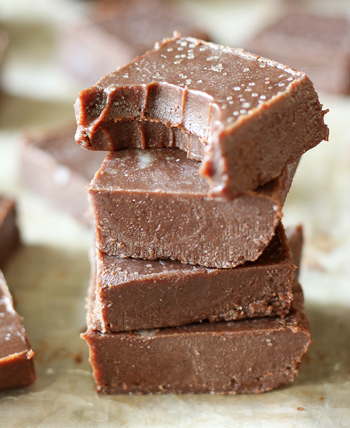 Who wants to turn the oven on in summer heat? With this salted dark chocolate tahini fudge, you don't have to. It's a creamy, coconut-meets-chocolate-meets-tahini treat that really takes traditional fudge to the next level.
Serves: 25 (1.5-inch bars)
Calories: 90
For the Tahini Mixture
½ cup sesame tahini
¼ cup + 1-2 tbsp organic coconut sugar (less or more based on preference)
1 tsp pure vanilla extract
generous pinch fine grain sea salt
2 tbsp extra virgin coconut oil, melted and cooled to almost room temp
For the Chocolate Mixture
1 and ½ cups dairy free soy free dark chocolate chips
½ cup full fat canned coconut milk, blended prior to adding*
¼ cup extra virgin coconut oil
Another pinch of sea salt to top the fudge
In a medium bowl, combine all ingredients for the tahini mixture as listed above, and stir until blended and creamy. Set aside while making the chocolate mixture.
In a small saucepan over very low heat, combine the chocolate mixture ingredients (except for the last pinch of salt) and stir constantly as the chocolate melts and the mixture blends.
Remove from heat as soon as the chocolate is melted and mixture shiny.
Using a rubber spatula, transfer all the tahini mixture into the chocolate and stir well to fully combine.
Line an 8 x 8 inch baking dish with parchment paper and then pour the fudge in, scraping with the spatula to use it all.
Spread it out gently, then sprinkle a final pinch of sea salt over the top to get the best flavor. Cover with plastic wrap and let it set in the freezer until solid – about 2 hours.
Cut into squares.
Recipe courtesy Paleo Running Momma
Grilled Peaches with Cinnamon Sugar Butter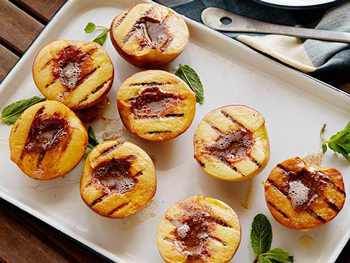 When you're in a rush and want to wow with some serious summer flavors, these grilled peaches are your friend. They incredibly simple to make (all you need is a grill and a bowl) and pack a tangy punch of flavor that will light your tastebuds up in a big way.
Serves: 4 (½ peach)
Calories: 199
1 stick unsalted butter, at room temperature
1 teaspoon cinnamon sugar
2 tablespoons granulated sugar
Pinch salt
4 ripe peaches, halved and pitted
Canola oil
In a small bowl add the butter and stir until smooth.
Add the cinnamon sugar, granulated sugar and salt and mix until combined.
Heat grill to high. Brush peaches with oil and grill until golden brown and just cooked through. Top each with a few teaspoons of the butter and garnish with mint leaves.
Recipe courtesy Food Network
Balsamic Strawberries with Ricotta Cream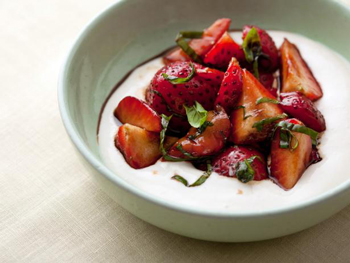 Give those in-season strawberries an extra kick of flavor with a simple-to-make ricotta cream concoction topped with fresh basil. It's that summer fruit you love with a bit extra to make it really pop.
Serves: 4
Calories: 180
1 cup part-skim ricotta cheese
2 tablespoons honey
1/2 teaspoon vanilla extract
3 tablespoons balsamic vinegar
2 tablespoons sugar
1 (16-ounce) container strawberries, hulled and quartered
2 tablespoons fresh basil leaves, cut into ribbons

Put the ricotta cheese, honey and vanilla extract into the small bowl of a food processor and process until smooth, about 1 minute. Transfer to a small bowl and refrigerate for at least 2 hours.
In a small saucepan combine the vinegar and sugar and bring to a boil. Simmer over medium heat for 2 minutes, stirring occasionally. Allow to cool completely.
In a medium bowl, toss the berries with the basil and the balsamic syrup.
Divide the cream among 4 cocktail glasses, top with the berry mixture and serve.
Recipe Courtesy Ellie Krieger
————————————————————————————
Author: Caitlin Hendee
Diet-to-Go Community Manager
Caitlin is the Diet-to-Go community manager and an avid runner. She is passionate about engaging with others online and maintaining a healthy, active lifestyle. She believes moderation is key, and people will have the most weight loss success if they engage in common-sense healthy eating and fitness.